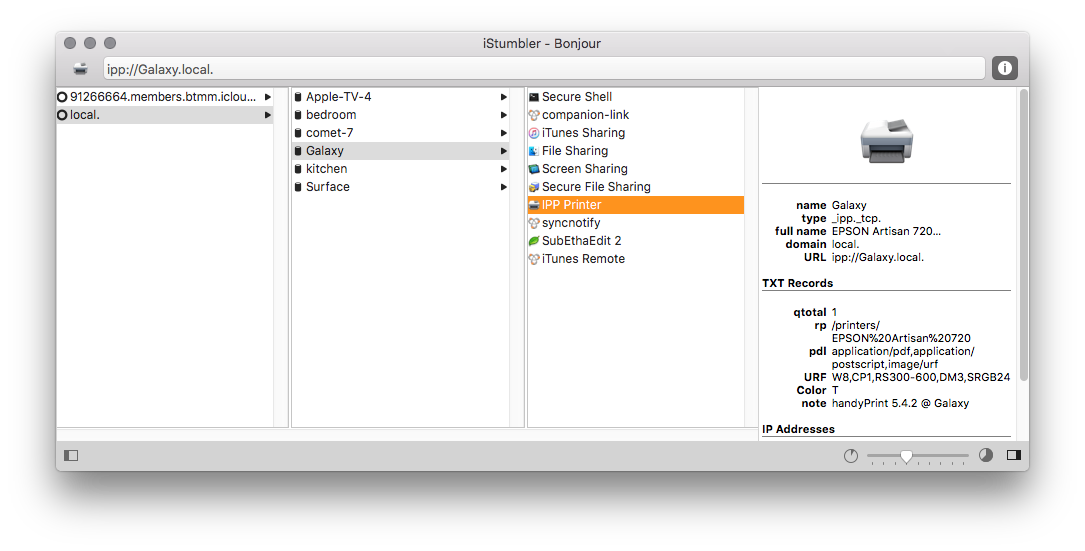 Browser
The Bonjour Plugin shows a browser view of the Bonjour (mDNS) services on the local network. The first column lists the Bonjour domains available for browsing, the second the Bonjour enabled hosts in that domain and the third column lists the services being advertised for that host.
Toolbar
The Bonjour Toolbar contains a URL entry field and a connect button. When a service is selected it's URL will be placed in the field for you to copy, or simply connect to by clicking the connect button.
Inspector
The Bonjour inspector shows the details of the currently selected service.
location the URL of the service
name the name of the device providing the service or a special name for the service.
service the dns-sd type name of the service
domain the Bonjour registration domain of the service, usually ".local".
addrs. internet addresses resolved for the service.
Service Key & Value additional info for the service.
Preferences
Browser Mode
Show Hosts in Domain default browse mode, domain, then host then services
Show Services in Domain secondary browse mode, domain, then services, then hosts
Service Display
Show Service Name uses the name of the application that handles a particular service type
Show Service Protocol use the formal name of the protocol for a particular service type
---
Something Missing?
Contact Support