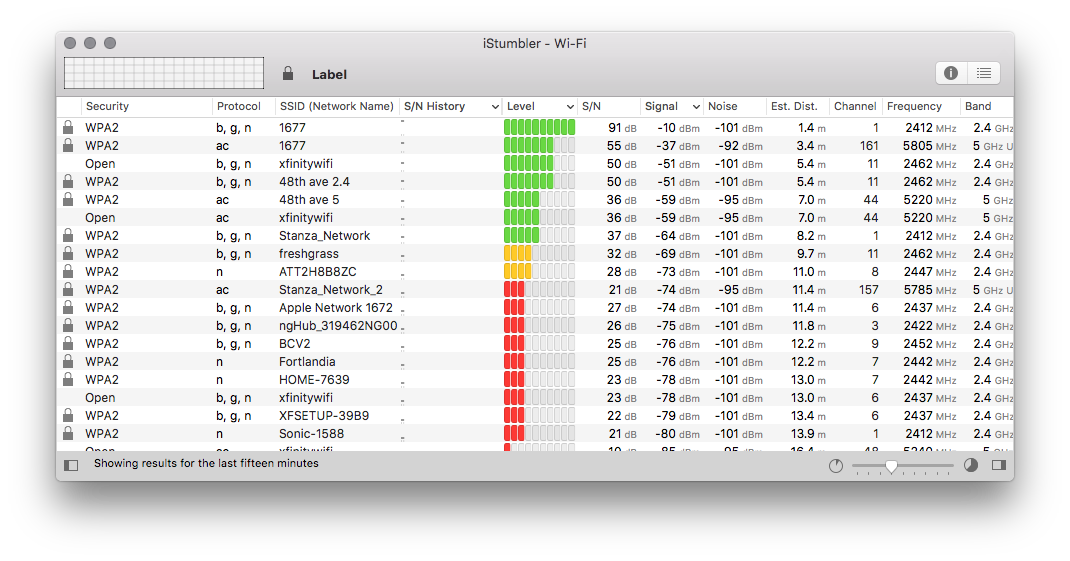 Main View
Shows Wi-Fi networks we have seen, displaying the network type, name and other information.
Secure: the security setting of the network
Mode: managed with access-points or ad-hoc network
SSID (Network Name): shows user configured name or SSID of the network
MAC Address: the unique address or BSSID of the network
Signal: the last signal sample for this network
Noise: the last noise sample for this network
Channel: the last channel sample for this network
Notes: notes about this network
Samples: the number of samples taken of this network
Last Updated: the last time a sample was taken
Toolbar
Signal Graph: shows signal level and noise over time
Security Icon: shows security type for the network
Network Name: network name or SSID
Monitors
The monitor shows a Signal Graph for the last network the AirPort Plugin joined. Double click on a network in the scan list to open a Monitor window.
Inspector
Shows detailed information about the selected AirPort network.
Signal and Noise Detail
A large graph of the signal and noise history of this radio.
Network Info
Displays the properties of the radio in tabular format.
Samples
Shows the details of all the samples taken of the selected radio.
Preferences
The AirPort plugins has several options for how it selects networks and the appearance of the connection monitor.
Selecting Networks
Auto Select When no network is selected, iStumbler will automatically select the connected network, or the open network with the best signal strength.
Connection Monitors
Keep on Top Monitor windows will stay on top of all windows, even when iStumbler is in the background.
---
Something Missing?
Contact Support